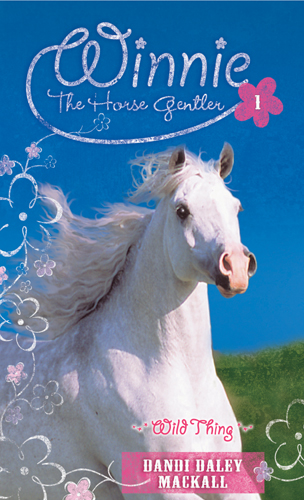 by Dandi Daley Mackall
Winnie the Horse Gentler series, Book #1
Published by Tyndale
192 Pages
Target Audience: Girls, Ages 8-12
Genres: Christian Fiction, Youth Fiction, Animals
About this book:
"Twelve-year-old Winnie Willis has a way with horses. She can gentle the wildest mare, but other parts of her life don't always come as easily. Along with her dad and sister, Lizzy, Winnie is learning how to live without her mom, who was also a natural horse gentler. As Winnie teaches her horses about unconditional love and blind trust, God shows Winnie that he can be trusted too. Readers will be hooked on the series' vivid characters, whose quirky personalities fill Winnie's life with friendship and adventure. In #1 Wild Thing, Winnie's fearful heart finally begins to trust God again as she tries to gentle the horse of her dreams, Wild Thing."
~~~~~~~~~~~~~~~~~~~~~~~~~~~~~~~~~~~~~~~~~~
Wild Thing is the first book in the Winnie the Horse Gentler series. Twelve year old Winnie Willis, her younger sister Lizzy, and their dad have moved several times within the past two years since Winnie's mother's death. Lizzy doesn't want to move again and neither does Winnie after she meets a beautiful Arabian horse called Wild Thing. Winnie wants to buy Wild Thing and gentle her the way her mom used to with her horses, but she doesn't have enough money to buy the horse. Will she find a way to get the horse of her dreams? Or will Winnie and her sister have to move again?

I really enjoyed reading Wild Thing. The only other horse related book that I've read by Dandi Daley Mackall is Horse Dreams (Backyard Horses Book #1), and while that book was more of a cute, lighthearted horse story, Wild Thing has more of an emotional side to it. Winnie struggles with guilt because she blames herself for her mother's death. She doesn't think that her dad has forgiven her or that God could love her anymore. In the book she learns of God's forgiveness, grace, faithfulness, and unfailing love and she begins to trust God again.

In the back of the book is a "Parts of the Horse" horse diagram, a "Horse Talk" guide, and a "Horse-O-Pedia" glossary of horse related words and terms, all of which make a nice educational addition to the book.

While this book is recommended for ages 8-12, I think older girls would enjoy it, too. Wild Thing was a great book and I would definitely recommend it for Christian girls, especially girls who love horses. I truly enjoyed it and would now love to read the rest of the books in the series.